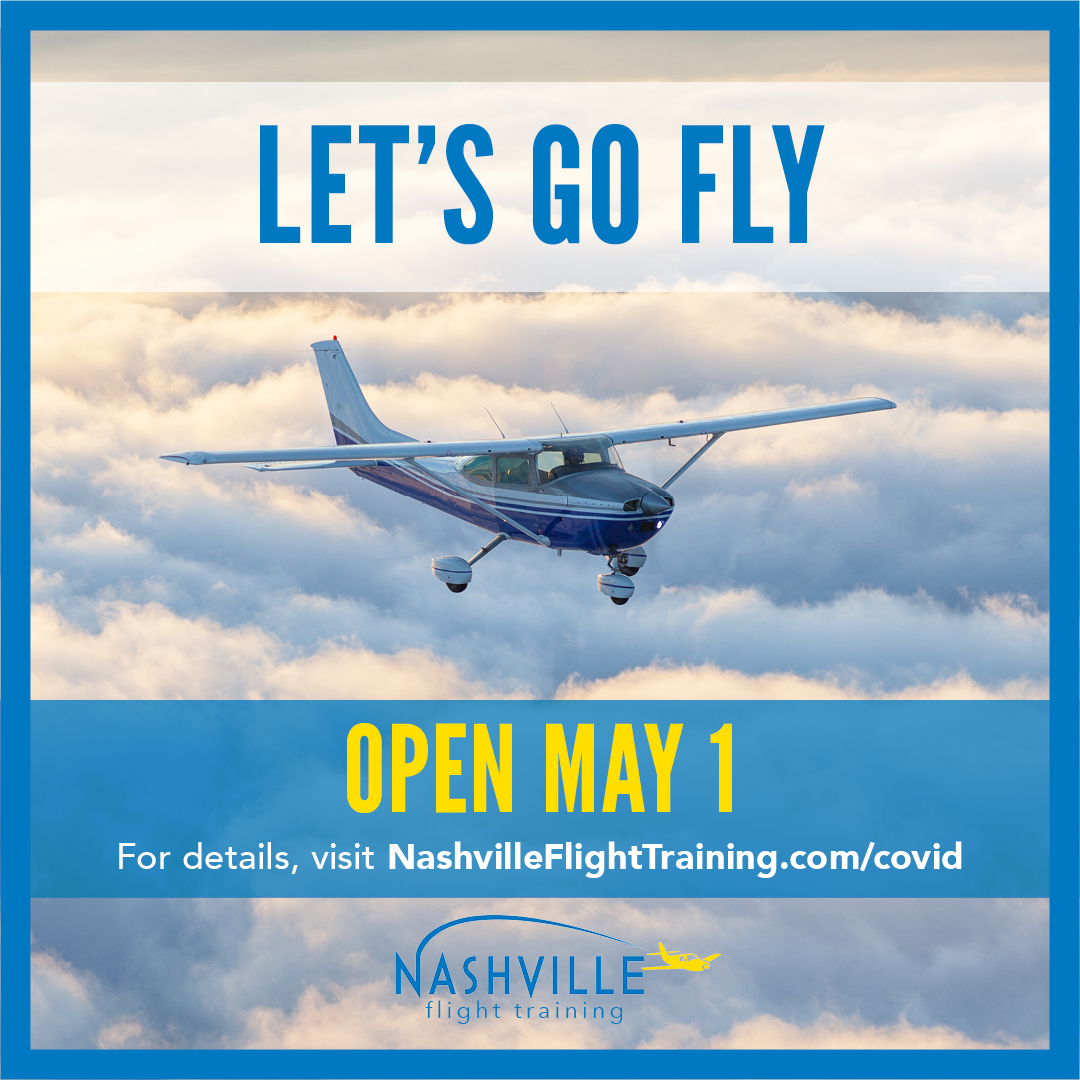 Nashville Flight Training is—and always has been—firmly committed to the safety of our students and instructors. The COVID-19 pandemic has added new challenges to businesses of all types and sizes, and ours is no exception. However, we are taking the "aeronautical decision-making" (ADM) approach to ensure safe operations going forward.
Our goal is to prioritize both employee and student health concerns, while staying committed to our mission of providing the world-class flight training that our students have relied on for the past 10 years.
We continue to closely monitor recommendations by public health agencies and workplace safety experts, as we implement the following mitigation protocols:
Employee health and safety: We are taking extra precautions in our BNA offices to ensure surfaces are cleaned after every use and cleaning supplies/hand sanitizer are readily available for all employees as well as our students.

Employee and Student monitoring: Upon entry to our facilities, every employee, instructor, student and vendor will receive a temperature query and will also receive a certification questionnaire. This questionnaire will be used to certify that the entrant:

Or anyone in his/her household, has not knowingly been exposed to and/or contracted COVID-19, also known as Coronavirus.

Has not been in contact with anyone who has a fever and/or any symptoms resembling COVID-19 or Coronavirus.

Has not traveled to any foreign country within the last 30 days.

Does not have any symptoms resembling a virus, including cough and/or sneezing, fever, shortness of breath, aches and pains and/or fatigue.

Does not have a body temperature in excess of 99.9 degrees Fahrenheit nor has signs of a fever and has not had any signs of a fever within the past 14 days.

Is not currently on any medications, including fever-reducing or other symptom-altering medicines including acetaminophen, ibuprofen, naproxen and/or any cough suppressants.

Agrees to wash hands with alcohol-based hand sanitizer or soap and water for 20 seconds upon entry to the facilities of Nashville Flight Training and agrees to wear a facemask while on-site.

Agrees to wipe commonly touched areas on both aircraft and simulators with sanitizing wipes at the beginning of every lesson. This includes, but is not limited to the control yoke, trim wheel, throttle, radio/GPS knobs, switches and door handles.

Agrees to maintain an adequate distance of 6 feet or more between self and any others while at Nashville Flight Training (NFT).

Agrees to no gatherings of more than 8 people in one physical place. In the event that the entrant encounters a space in which 8 or more are gathered, he/she will exit the building and wait until there is adequate space available.

Agrees to inform his/her instructor as well as all Nashville Flight Training staff in the event that he/she, or anyone in his/her household, becomes diagnosed with COVID-19. (NFT will keep this information confidential.)

Agrees to follow guidelines as outlined by the Centers for Disease Control and to remain courteous and safe while at Nashville Flight Training.

Understands that entering the facilities and operating the aircraft at Nashville Flight Training is a risk and agrees to indemnify and hold Nashville Flight Training, its agents, employees, and affiliates harmless from and against any and all loss, liability, claim, demand, cause of action, attorneys' fees and expense of any kind arising from entry of the NFT facilities, the use or possession of NFT's aircraft, including but not limited to attorneys' fees incurred by NFT to enforce any of its rights hereunder.
Employee and Student Quarantine: While our standard policy is to avoid canceling a student's lesson if at all possible, we are encouraging both staff and students to remain in quarantine if they experience any symptoms resembling COVID-19.

Remote access to our educational platform: In the need to operate in remote locations, our staff is fully equipped to continue business as close to usual as possible. While there may be cases where we can't fly an aircraft together, this initiative includes the ability to continue educating our students with ground lessons by utilizing video conferencing technology.

Ongoing customer communication: We will be regularly communicating with students about any changes to our workforce that may impact our ability to provide flight education. At this time, we do not anticipate disruption to students' lessons. Should that change, we will be transparent about what we are doing and the impact that might have on students' lessons and overall flight education.
In an effort to avoid the spread of misinformation about the Coronavirus COVID-19, the best resources to stay informed include:
Centers for Disease Control & Prevention
World Health Organization
For the most up-to-date information about service availability or should you have any questions, please do not hesitate to contact our staff at 615-366-9192.