The skies are calling!
Nashville Pilot Camp
Specially designed for ages 13-18, Nashville Pilot Camp offers the opportunity to find out what it really takes to learn to fly. During our one week summer camp, students will learn through hands-on participation as they gain valuable aviation experience. Participants also learn disciplines of aviation through science, technology, engineering and math (STEM) and meet like minded aviation enthusiasts their own age. Imagine your teenager telling their friends that they got to fly a plane this summer! The memories and friendships made during Nashville Pilot Camp will last a lifetime.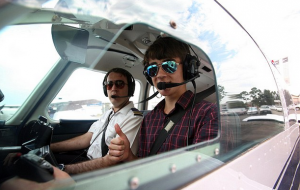 BENEFITS and VALUE
Every participant receives up to two full hours of FAA certified flight instruction in an actual airplane, one hour of flight training in an FAA certified flight simulator, as well as books, maps, and a camp t-shirt.
Watch our News Channel 5 interview HERE
****** 2018 DATES ARE TO BE ANNOUNCED SOON! ******
COST: $699
Download registration forms here: nashvillepilotcampenrollmentforms2017
NOTICE: This camp has sold out for the past 2 years in a row. If you are interested in attending our 2018 camp, you may want to pre-register. The camp will be in June 2018. Exact date will be announced soon.
TENTATIVE SCHEDULE
Monday
Introductory ground school. Engines, instruments and aerodynamics
Tuesday
Communications and radio procedures. Discover Nashville Air Traffic Control
Wednesday
Weather ground school. Discussion of aviation maps.
Flight on FAA certified flight simulator
Thursday
Safety Ground School. Airplane flight.
Friday
Airplane Flight
Nashville has never seen anything like this before. Register now – seats are limited !
Have questions? Check out our registration forms, email us or call us at 615-366-9192
Download registration forms here: nashvillepilotcampenrollmentforms2017